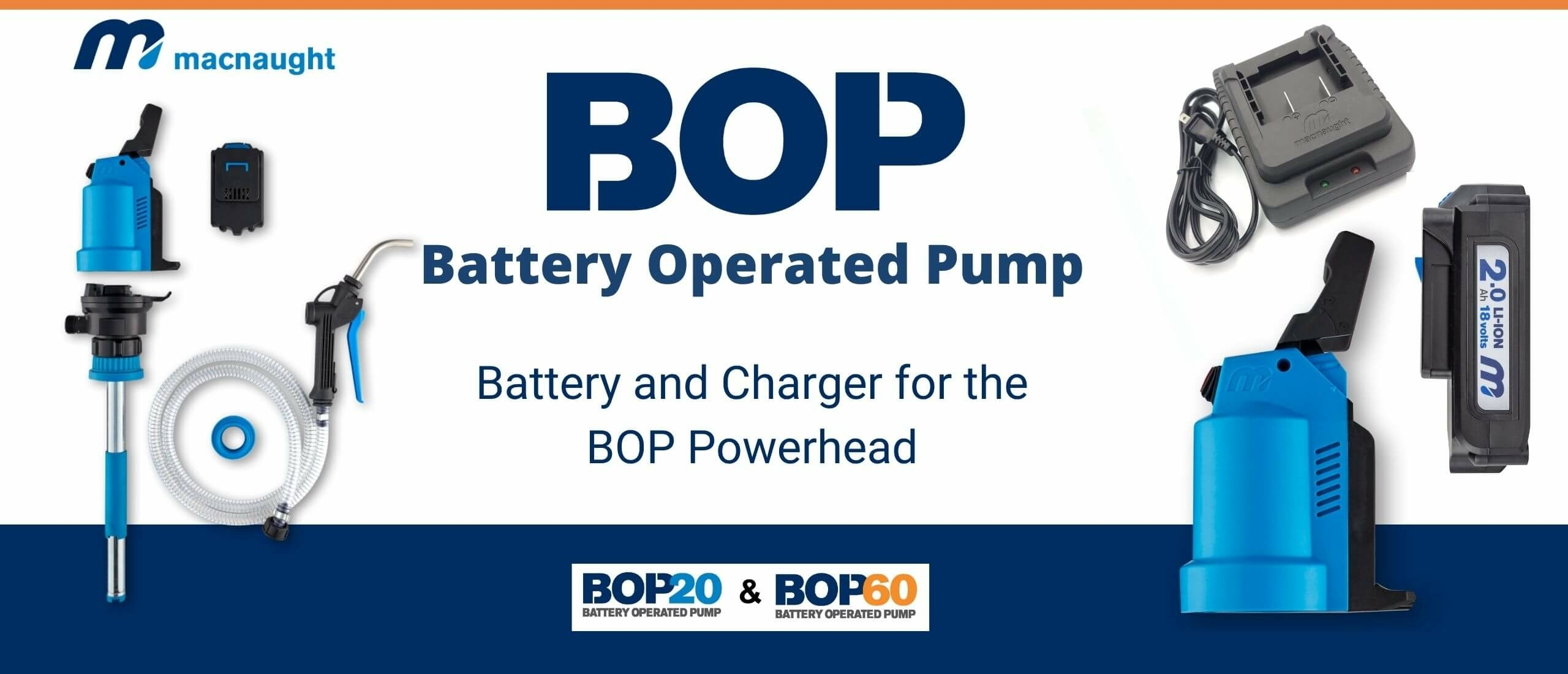 Oil Equipment
Battery/Charger for the BOP Powerhead
The Battery Operated Pumps from Macnaught (BOP20 and BOP60) are all using the same Powerhead. The Powerhead locks on and off the BOP stems quickly and easily; it fits to multiple stems.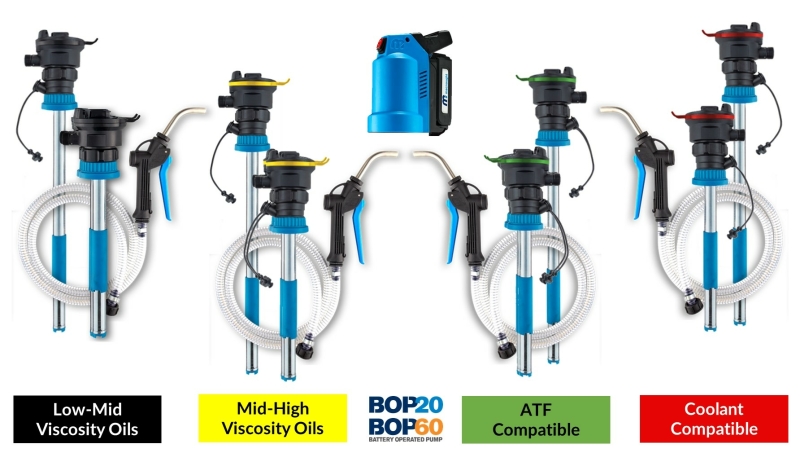 One Powerhead powers multiple stems for 20L and 60L drums
It is important to keep in mind that only genuine Macnaught Battery and Charger should be used in the BOP powerhead.

BOP Powerhead - Charger - Battery
Battery and Charger Safety
It's advisable to carefully read this safety information before using the powerhead.
DO NOT place any object on top of the charger or place the charger on an uneven surface.
When removing charger from wall outlet, turn off power point, remove by pulling plug only (not cord).
Inspect charger and battery prior to use for any signs of damage, loose or missing parts. If equipment is worn or damaged, remove it from service (Replace if required).
DO NOT use charger on any other voltage than designated on the charger.
An extension cord should not be used unless absolutely necessary. If required only use an approved extension cord which would be suitable for this power tool.
DO NOT use battery or charger if dropped, receives a sharp blow or is damaged in any way.
Unplug charger when not in use. Remove battery from unplugged charger.
Your charger is designed to operate on standard local electrical voltage.
Model input Voltage: MBC-EU and MBC-UK = 200-400V.
DO NOT attempt to use the charger on any other voltage.
DO NOT use battery or charger below 0o C or exceed 40o C ( If battery pack is either too hot or cold charging will cease until correct tempterture is reached).
DO NOT incinerate the battery (The battery can explode in a fire).
DO NOT short circuit the battery. (Keep battery away from any metalic objects that may bridge the battery terminals).
Only use a power source with the correct voltage as specified on the charger




Note: Double insulation does not take the place of normal safety precautions 
when operating this tool.
To reduce the risk of electrical shock, use of a residual current device (rated 30mA or less) is recommended
DO NOT leave battery on prolonged charge when not in use.
Under extreme conditions the battery could leak. If battery liquid comes in contact with the skin, wash in water for at least 10 minutes, then seek immediate medical attention.
Make sure the battery pack snaps into place and the battery pack is secured in the charger before operation.
The battery pack and charger will become slightly warm to touch while charging. This is normal.
DO NOT place the battery pack or charger in extreme hot or cold.
Battery Specification
Type: Li-ion
Capacity: 2000mA
Voltage: 18.5V
Temperature: 0 deg. C - 45 deg. C
Charge Battery

Insert/Remove Battery

Battery Disposal
Dispose of old batteries properly. The battery contains rechargeable Lithium-ion and must be recycled or disposed of properly. Please refer to the local authorities for the correct method of battery disposal.