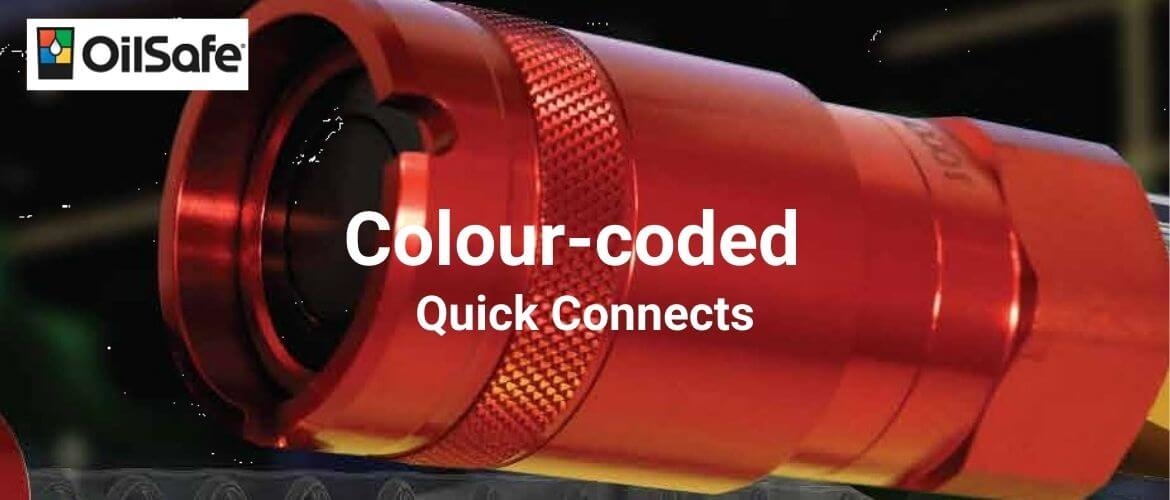 Oil Equipment
Colour-coded Quick Connects
OilSafe's Colour-coded Quick Connects offer a flexible, durable and safe hose interface for use with lubrication management equipment. These connects are specially designed to eliminate cross-contamination. They are manufactured from anodized aluminium, and thereafter colour coded.
The Connects are available in 10 familiar OilSafe colours to easily identify fluid contents and set the bar with an error-proof/exclusive fit. Only two terminals of the same colour can fully connect, making cross contamination impossible.
Quick Connects
The colour-coded, strong, anodized aluminum flat-face quick connectors are easy to use and almost impossible to cross-connect. Thereby you have the guarantee of purity across your distribution processes and lube storage. The quick connect integrate with a wide range of lubrication management systems and equipment.
Each colour coded, keyed, female connector only fits its male matching colour.
However, the silver Quick Connect is available as a universal fit (not keyed) for all 10 colours.
OilSafe's Quick Connects keep your machinery and fluids lasting longer while maintaining a safe and efficient work environment. These zero-leak quick connects eliminate wastes and spills throughout your facility.
For a complete overview of all colour-coded quick connects, please visit our webshop.
Smooth Performance
These unique Quick Connects maintain purity across your lubricant storage and distribution processes. The colour-coded anodized aluminium fittings eliminate cross-contamination. They are easy to use, nearly impossible to confuse or cross-connect and integrate with a wide range of lubrication management systems and equipment.
Standard for Safety
These zero-leak, precise and secure hose terminals will increase safety and efficiency by eliminating spills and wastes throughout your facility.
Simplicity, Flexibility, Reliability
OilSafe's Quick Connects come in all 10 OilSafe colours that make it easy to identify your equipments fluid contents. Each colour-coded male / female pair is designed to only fit terminals of a matching colour. A silver terminal is available as a universal fit for all 10 colours – permitting zero fuss connections for special use cases.
The Quick Connects are versatile and the only aluminium, flat-face quick connects on the market.
ELIMINATE CROSS-CONTAMINATION WITH COLOUR-CODED / ERROR PROOF, FLAT FACE, ZERO-LEAK QUICK CONNECTS
The Colour-coded Quick connects are available as an upgrade option on most OilSafe systems, including: Advanced Bulk Systems Lubrication Work Centers Transfer Skids, 65 Gallon Advanced Fluid Cart, 55 Gallon Drum Work Stations, Tote Skids, Filter Carts. As well as filter carts and storage systems from other manufacturers.
Call for upgrade kit part numbers (Tel. +31 765781280 – UK: +44 7393429957)
Clear Covers for Quick Connects
Clear covers for quick connects are protective covers designed to shield quick connect couplings from dust, dirt, moisture, and other contaminants. These covers are transparent or translucent, allowing visual inspection of the coupling while providing a protective barrier.
Quick connect couplings are commonly used in various industries, including hydraulic systems, pneumatic systems, fluid transfer applications, and industrial machinery. They offer a convenient and efficient way to connect and disconnect hoses, pipes, and other fluid or air transfer components without the need for tools.
Clear covers for quick connects serve several purposes:
Contamination prevention: 
By covering the quick connect coupling, these covers prevent contaminants such as dust, dirt, debris, and moisture from entering the connection points. This helps maintain the cleanliness and integrity of the coupling, reducing the risk of damage or performance issues.
Safety: 
Clear covers provide a physical barrier between the quick connect coupling and the surrounding environment, minimizing the chances of accidental contact and potential injuries.
Visibility: 
The transparent or translucent nature of these covers allows users to visually inspect the condition of the coupling without removing the cover. This can be particularly useful for quick maintenance checks or troubleshooting.
Easy access: 
Clear covers are typically designed to be quickly and easily removed when access to the quick connect coupling is required. This ensures that the cover doesn't impede the efficiency or convenience of using the quick connect coupling.
In order to keep contaminants out, use these Clear Covers for OilSafe colour-coded Quick Connects.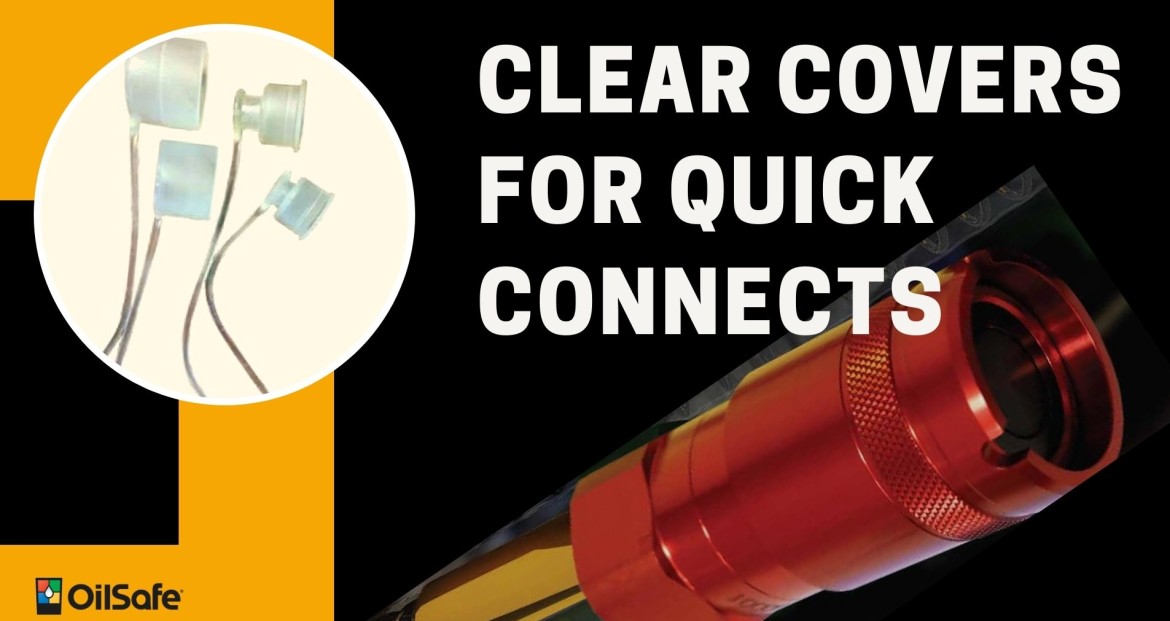 Applications include:
OilSafe Quick Connects
Lubrication Work Centers/Bulk Systems
Filter Carts and
Transfer Skids
Clear Covers Part Numbers: