We're excited to announce that the 1.5L and 2L OilSafe drums are back by popular demand. These smaller-sized drums are perfect for customers who need to store and transport smaller quantities of fluids, and who require a more compact solution.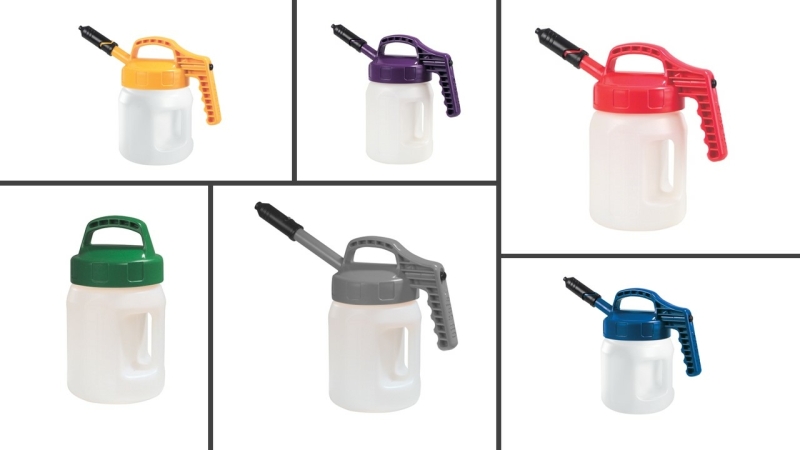 1,5 liter (#101001) and 2 liter (#101002) OilSafe drums
The OilSafe drums are designed to provide safe storage and transportation of industrial fluids,. They are made from high-quality materials and are built to last, ensuring that your valuable liquids remain safe and secure. The drums feature a patented lid and colour-coded labels, making it easy to identify the contents and prevent cross-contamination.
The 1.5L and 2L OilSafe drums are ideal for customers who work with smaller machines and equipment, where storage and handling space is limited. These drums are easy to store, transport and use, and will help you save time and effort while keeping your fluids safe and secure.
We're thrilled to be able to offer the 1.5L and 2L OilSafe drums once again, and we know that our customers have been eagerly waiting for their return. We take pride in our commitment to providing high-quality, safe and reliable products that meet the needs of our customers. With the return of these smaller-sized drums, we're able to offer a more complete range of solutions to our customers, making it easier to find the perfect product for your specific needs.
Technical details 1,5 and 2 liter drums
Features: Both the 1.5-liter and 2-liter OilSafe drums have a number of features (like their bigger brothers 3L, 5L and 10L) that make them ideal for storing and dispensing fluids.
The OilSafe drums are made from high-density polyethylene material and are white transparent in colour. This allows you to easily see the contents of each drum and monitor fluid levels.
In addition, the OilSafe system offers a range of ten different lid colours to choose from, including black, blue, dark green, light green, orange, purple, red, beige, yellow, and gray. The lids feature a patented sealing system that ensures a tight and secure fit to prevent leaks and spills. The different lid options include the Utility Lid, Stretch Spout Lid, Mini Spout Lid, Stumpy Spout Lid, and Storage Lid, which allows you to customize the dispensing system to meet your specific needs.
Summary
All drums fit any size genuine OilSafe Lid
Extra wide neck opening (120 mm / 4.7 inch) for quick, clean filling
Fully graduated in both metric and imperial to assist with measuring fluid volumes
Liquid levels are easy to read and measure in quarts or liters
Includes label to identify contents
Made of durable, translucent industrial grade HDPE (Polyethylene ) w/ UV Radiation Stabilizers & Anti-Static Agents. 
Will not warp, leak, bend or break.
High Density Polyethylene (HDPE) is a very chemically resistant plastic, however contact with strong oxidising acids should be avoided, eg. Ozone, Hydrogen Peroxide, Halogen etc. Any queries regarding the resistance of HDPE against specific chemicals should be directed to the manufacturer.
Do not use OilSafe products for fuels or solvents.
Keep away from naked flames or excessive heat.
Avoid prolonged or repeated skin contact with used oil.
Storage Lid (sold separately) prevents contamination while liquid is stored or transported
Keeps stored lubricants pure and free of contamination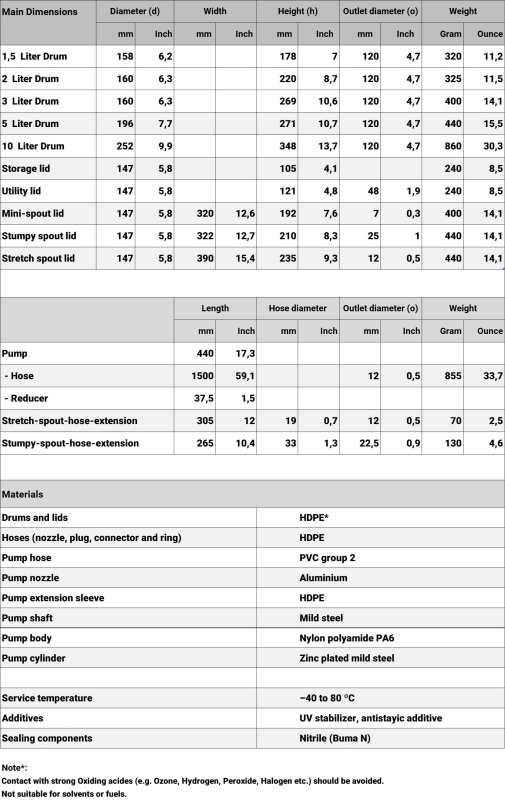 Compatibility: The OilSafe drum system is designed to be compatible with a range of other OilSafe products, including pumps, lids, and labeling systems. This allows users to customize their storage and dispensing solutions to meet their specific needs.
Overall, the OilSafe 1.5L and 2L drums are high-quality, durable, and reliable products that provide safe storage and transportation of industrial fluids. With their compact size and patented sealing system, these drums are a great solution for customers who need to store and transport smaller quantities of fluids.