The Satellite Lube Room is a stand-alone storage solution for when lubricants are subject to remote or extreme conditions and interior space is limited.
Engineered to protect lubricant quality and lifespan by reducing handling errors and controlling the operating environment, the Satellite Lube Room allows you to establish a safe and efficient remote base of operations for storing, dispensing and managing industrial lubricants. It supports all the essential features of an OilSafe lubrication setup and packages them into a self-contained, regulation-compliant structure, that can be loaded onto a flatbed tow truck and moved easily with a forklift.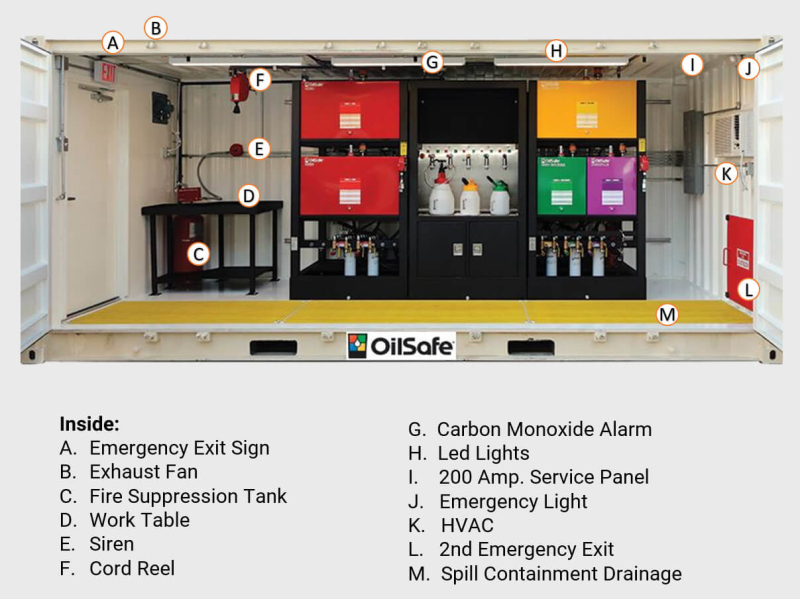 The Satellite Lube Room Inside
The sturdy steel structure offers a customizable foundation and comes with:
a work table, 
interior/exterior and emergency lighting, 
air-conditioning system, 
container ventilator cover, 
exhaust fan, 
fire suppression tank, 
siren, 
cord reel, 
carbon monoxide alarm, 
200-amp service panel, 
spill containment drainage, 
electrical shut-off, and 
emergency and secondary emergency exits.
"OilSafe has always been about streamlining storage and handling of lubricants in a way that is simple, clean and efficient, but the demanding environments of many industrial sites can wreak havoc on equipment and lubricants if it isn't housed well," said Steve Anderson, product development director at Whitmore. "Instead of forcing operators to bring the machine to the lube station, this product brings a lube room closer to the machine."
The Satellite Lube room is available in 20- and 40-foot configurations.
The 20-foot lube room can be easily transported with a flatbed tow truck or loaded onto a deck-over goose-neck trailer and pulled by a ¾-ton truck. Fork slots in the base allow for easy positioning at the job site.


The 40-foot lube room includes the same features as the smaller unit but with twice the interior space. It is designed for sites where more storage and work space is needed, and can still be moved around the site with forklift-equipped machinery.
An OilSafe Customisable Lubrication Work Center can also be added to the Satellite Lube Room. Work Centers feature:
colour-coded steel tanks with a dedicated pump/motor/filter, 
an integrated oil-dispensing point and three-way valves for filling, 
dispensing and in-tank recirculation. 
Other compatible add-ons include the OilSafe Tote Dispensing Rack, Filter Cart and more.
Credit: Whitmore