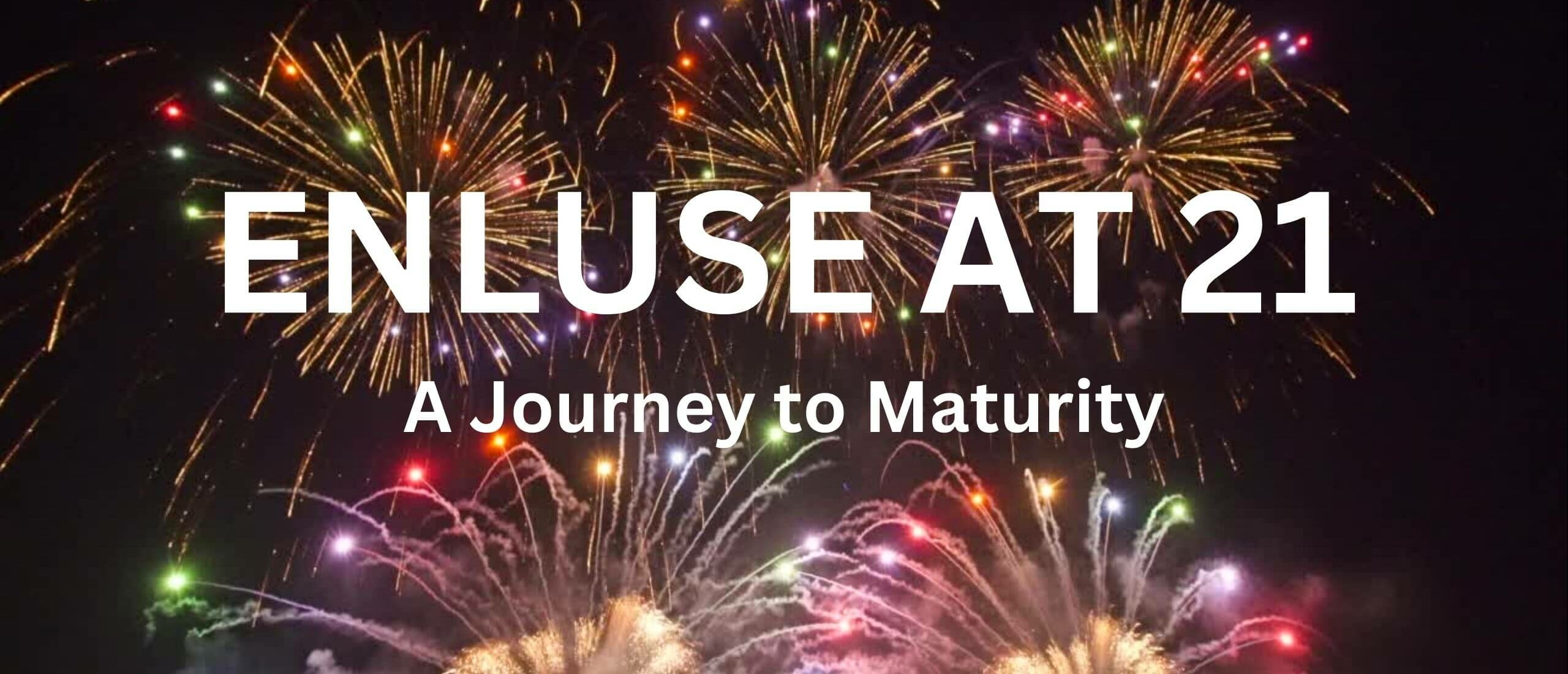 Various blogs
Enluse at 21: A Journey to Maturity
Today, we celebrate a significant milestone in the life of Enluse. Our company has turned 21, and it's more than just another anniversary—it's a testament to growth, resilience, and the journey to maturity. In this blog post, we'll embark on a metaphorical journey, paralleling the growth of Enluse with the challenges and triumphs that come with turning 21 in the business world.
The Crossroads of Experience and Ambition
Much like a young adult approaching their 21st birthday, Enluse now stands at a crossroads. On one side lies the rich tapestry of experiences, lessons learned, and achievements unlocked. On the other side is the vast horizon of future ambitions and opportunities. It's a moment of reflection, as we acknowledge our past while eagerly embracing what lies ahead.
Reflecting on the Past - Milestones and Achievements
Imagine flipping through a corporate scrapbook filled with the milestones and achievements that have defined Enluse's first two decades. From humble beginnings to significant breakthroughs, each page tells a story of determination and innovation. Turning 21 allows us to pause and appreciate how far we've come.
Setting New Goals and Aspirations
Turning 21 is an opportunity to set new goals and aspirations for the future. Just as a young adult sets out to define their path, Enluse can chart a course for the next phase of its journey. This includes expanding into new markets, innovating products and services, and continuing to make a positive impact.
The Network We Keep - Building Strong Partnerships
In adulthood, the relationships we build become invaluable. Enluse's network of clients, partners, and employees is like a strong foundation. These connections are bridges to the future, enabling us to reach new heights. Cultivating these relationships is crucial as we continue our journey.

Celebrating 21 - The Grand Achievement
Our 21st birthday is a grand achievement, a celebration of Enluse's growth and success. Whether we mark this occasion with a company-wide celebration or a simple acknowledgment of our achievements, it's a moment to be proud of how far we've come and excited about the journey ahead.
Enluse at 21 is a story of growth, determination, and the pursuit of excellence. We've reached a milestone that symbolizes our journey to maturity in the business world. Just as a young adult looks forward to their future, Enluse eagerly anticipates the opportunities and challenges that lie ahead.
Happy 21st birthday, Enluse—may our journey continue to be remarkable!
Join Us in Celebrating Our Birthday and Building Future Partnerships
Enluse is turning 21, and we want you to be a part of our celebration and our exciting journey ahead.
Why Partner with Us?
•    Quality Products and Solutions
•    Cutting-Edge Technology
•    Dedicated Support and Training
•    Expansive Network
As we celebrate this milestone, we're also looking to the future. If you're ready to explore new horizons and collaborate with a dynamic team, apply to become a valued dealer today!
Let's celebrate our birthday together and embark on a journey of growth and success.
We can't wait to welcome you to the Enluse family!