Imagine a robust and reliable storage solution made of strong steel, designed to prioritize safety. These cabinets may not be fireproof, but they are equipped with a special feature called a retention bottom, which ensures that any spills or leaks are contained within the cabinet.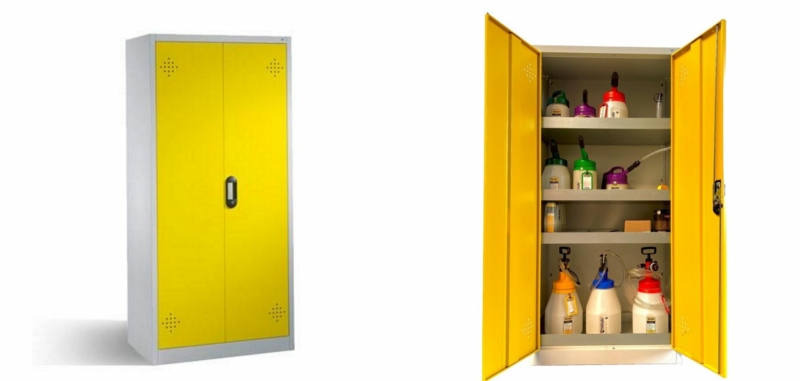 Steel Safety storage cabinet - SK-0195100
Inside the cabinets, you'll find steel shelves that can support up to 100 kilograms of weight. For taller units, there are options with either one or three adjustable shelves, allowing you to customize the storage space according to your needs. Additionally, there is a bottom retention tank that has a height of 70 millimeters, providing an extra layer of protection against leaks.
To enhance security, the cabinet doors are designed with a double fixing mechanism and come with two keys for locking. The walls and construction of the cabinets are fully welded, ensuring high strength and stability.
Ventilation is an important aspect, and the cabinet doors are equipped with small holes located at the four corners to allow for airflow and prevent the buildup of potentially harmful vapors.
The cabinets are coated with a special scratch-resistant epoxy coating, which not only adds durability but also provides a structured texture for added strength. The door colour is safety yellow (RAL 1023), chosen specifically for its high visibility, making it easy to locate the cabinet in any environment.
These cabinets are specifically designed for the storage of liquids that fall under
ADR 8/9 class , making them ideal for storing lubricants in OilSafe cans and lids when fireproof properties are not mandatory. However, if fireproof capabilities are required, there are other cabinets available to meet those needs.

Technical Data
SK-0106100: Safety Cabinet with retention
H 1020 x W 930 x D 500
Yellow doors + Grey (RAL 1023)
Shelves: 1 + reten.
Retention: 2 x 30 l
SK-0195053: Safety Cabinet with retention
H 1950 x W 502 x D 500
Yellow doors + Grey (RAL 1023)
Shelves: 3 + reten.
Retention: 4 x 15 l
SK-0195100: Safety Cabinet with retention
H 1950 x W 930 x D 500
Yellow doors + Grey (RAL 1023)
Shelves: 3 + reten.
Retention: 4 x 30 l