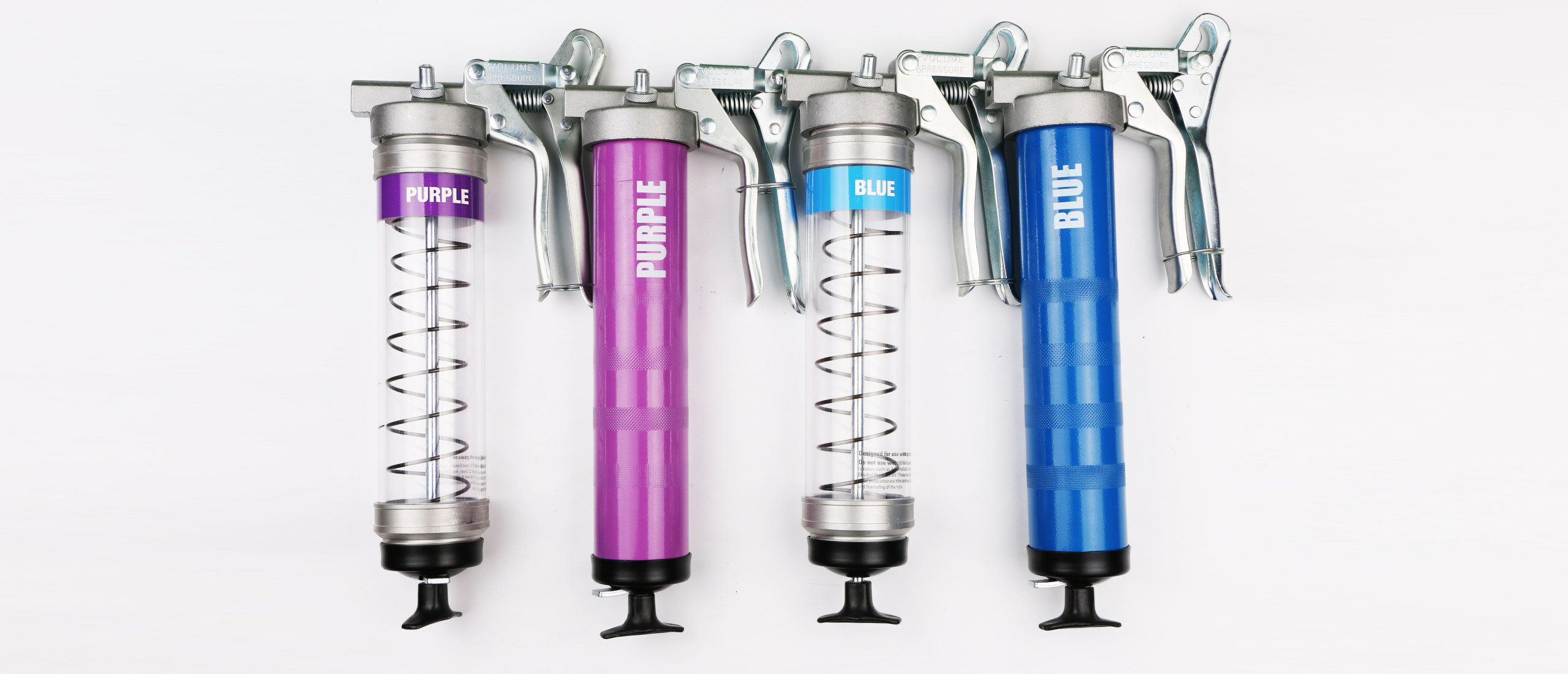 Grease Equipment
High Volume Cold Weather Grease Gun
High Volume/High Pressure, Cold Weather Design Pistol Grip OilSafe Grease Guns
Heavy duty, all weather grease guns designed for convenient use even in very cold weather conditions.
These colour-coded grease guns provide easy identification and help eliminate cross-contamination.
Built Tough
Barrel with 0.049" (1.2 mm) wall thickness
Heavy duty follower spring
CNC machined aluminum die cast head with bulk loader valve that double as an air bleeder
Rolled threads for quick and easy reloading
Heavy duty plunger spring keeps grease compressed and free of air pockets
Venturi Mechanism coupled with a large grease inlet helps retain prime.
Also available with a Unique Adjustable Stroke Mechanism that switches between high pressure and
high volume easily.
High Volume for faster greasing and
High Pressure for use in very cold weather conditions

Adjustable Stroke Mechanism
Use with 14 oz. (400 gms) grease cartridge / 500 cc bulk fill.
Comes with 12" (300 mm), 0.425" (11 mm) high pressure grease hose and coupler Ø 2-1/4" (57.15 mm)
Filling Options


Details High Volume / High Pressure Cold Weather Grease Gun
Develops : Up to 6.000 PSI (413 Bar)
Delivers : Up to 1.30 Oz./40 strokes (0.90 GM/Stroke)
Durable Steel and Clear Body Tubes
Available in 10 OilSafe colours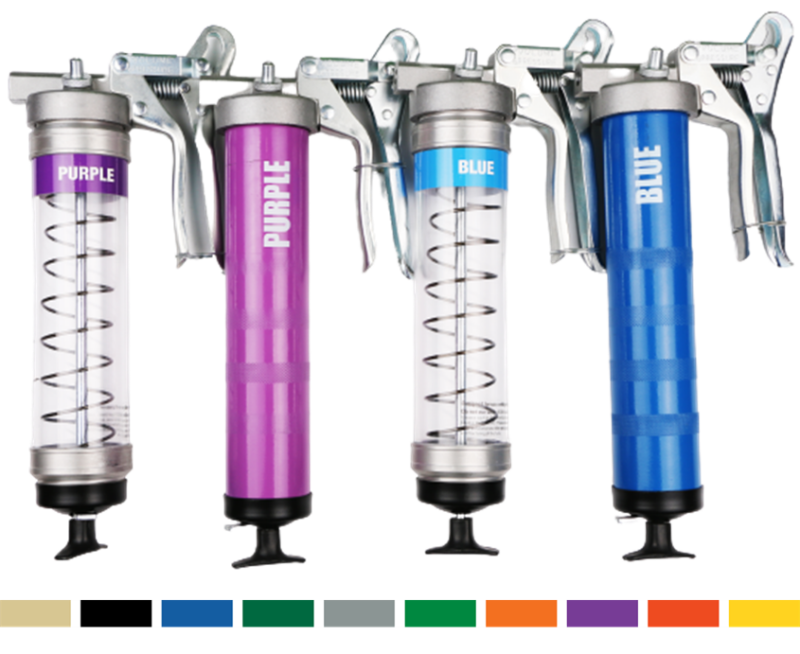 Part Numbers Cold weather Pistol Grip Grease Guns
Part #
Colour
Material
Cartridge Capacity
Bulk Capacity
Threads






(Oz.)
(GMS)
(C M P)


With unique adjustable stroke mechanisme
350200
Beige
Steel
14
400
500
1/8" NPT
350201
Black
Steel
14
400
500
1/8" NPT
350202
Blue
Steel
14
400
500
1/8" NPT
350203
Dk Green
Steel
14
400
500
1/8" NPT
350204
Gray
Steel
14
400
500
1/8" NPT
350205
Md Green
Steel
14
400
500
1/8" NPT
350206
Orange
Steel
14
400
500
1/8" NPT
350207
Purple
Steel
14
400
500
1/8" NPT
350208
Red
Steel
14
400
500
1/8" NPT
350209
Yellow
Steel
14
400
500
1/8" NPT
350400
Beige
Clear
14
400
500
1/8" NPT
350401
Black
Clear
14
400
500
1/8" NPT
350402
Blue
Clear
14
400
500
1/8" NPT
350403
Dk Green
Clear
14
400
500
1/8" NPT
350404
Gray
Clear
14
400
500
1/8" NPT
350405
Md Green
Clear
14
400
500
1/8" NPT
350406
Orange
Clear
14
400
500
1/8" NPT
350407
Purple
Clear
14
400
500
1/8" NPT
350408
Red
Clear
14
400
500
1/8" NPT
350409
Yellow
Clear
14
400
500
1/8" NPT