Lubrication has a direct effect on equipment reliability. If you have a good lubrication strategy, you will improve your plant and equipment up-time. For any given plant, there are a number of important steps that, if implemented, will increase equipment reliability.
The following 10 lubrication best practices can help companies achieve the optimal result in maintenance costs compared to production reliability.
1. Assessment/Benchmarking
In this process, you assess the things that you do right as well as the things you need to do better.
2. Organisation and Planning 
This step is about ensuring that all lubrication tasks in the plant are completed at the right time with the right lubricant and the right quantity while using the right processes. For this, most companies use software to control and report the activity.
 3. Identification
To ensure that the right lubricant is added to a piece of equipment, a labeling system is needed. This is driven by the fact that in large plants multiple types of lubricants are used. Lubricants are complex chemical compositions and are often very incompatible, so to avoid errors of mixing lubes and to support industry standards, particularly in the food-grade industry, a good labeling system is necessary.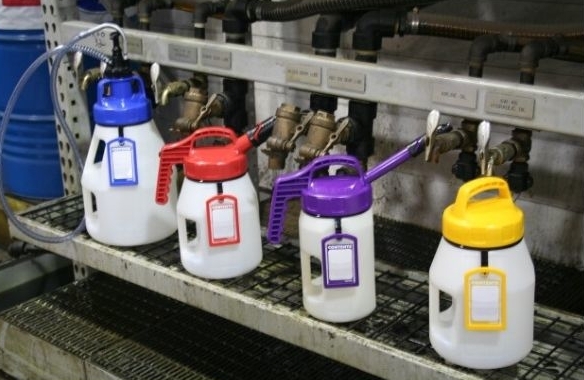 A good labeling system can help ensure that the right lubricant is added to a piece of equipment. 
4. Cleanliness Control
Oil contamination is a major source of component wear and equipment failure. Therefore, it is important that only clean lubricants are used in the equipment operation. Cleanliness-control centers ensure that the lubricant is stored safely, is clean and is transferred in a contamination-free environment. 
Best practices for cleanliness control include:
Only use fully sealed containers.
Fit air breathers to all containers to prevent the ingress of water and contaminants from the atmosphere.
Filter all oil to get it very clean.
Only use contamination-free containers, i.e., containers that will not generate contaminants.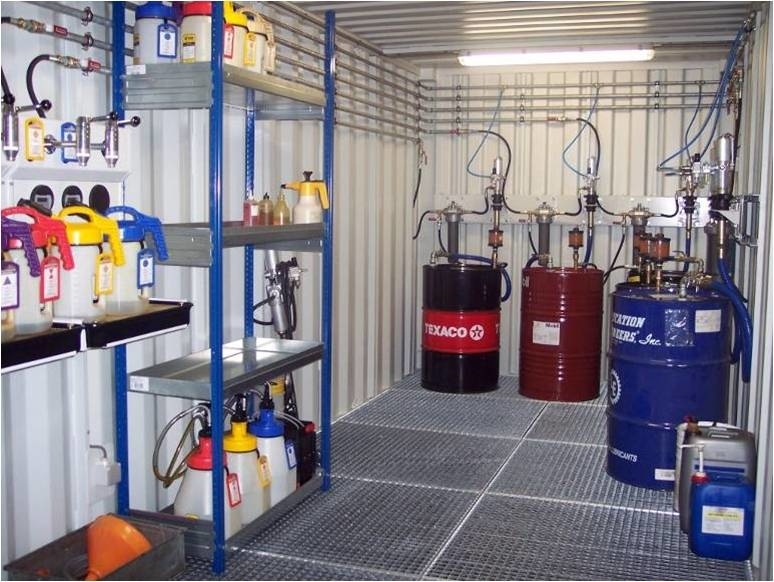 An example of a cleanliness-control center 
5. In-plant Dispensing
Open and dirty dispensing containers can be a source of contamination entering the machine. Dispensing equipment must be safe, clean and closed. It also should be efficient, easy to use and adapted to the applications being filled. Make sure the containers are well-identified so no mistakes occur, regardless of who uses them.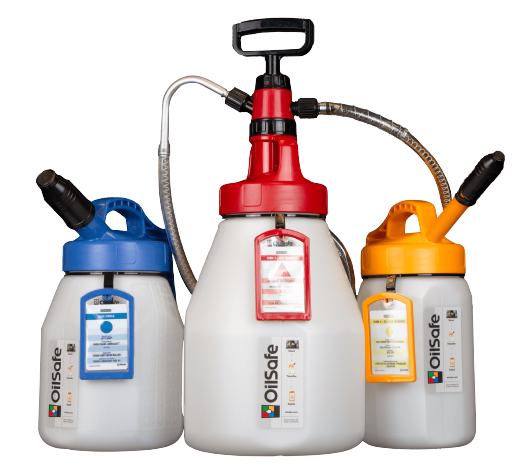 These multi-coloured dispensing containers are fully sealed, easy to use and rust free. 
6. Grease Lubrication Tools
Adding grease to a machine accounts for the majority of lubrication jobs. Therefore, it's essential to have tools that are efficient and practical. Grease guns should be colour-coded to ensure that the right lube gets in the right application. Colour-coded grease guns, with one colour for each different grease, can help in this regard.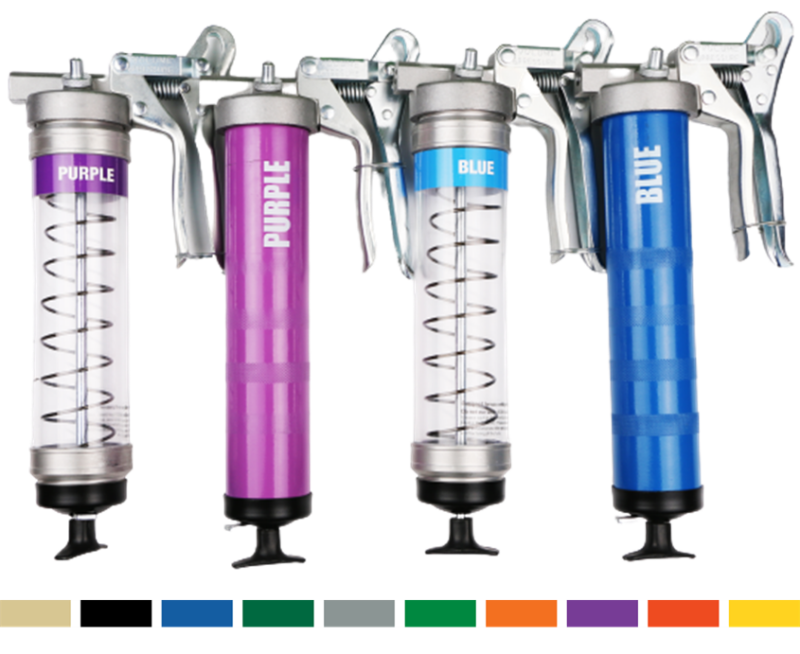 7. Contamination Control
Controlling the contamination of oil inside the equipment is also critical. The international standard for measuring this is ISO 4406. Online and offline filtering systems are used to clean up the oil, while breathers or air conditioners are utilized to protect the lubricant.

Filtration Units extend the life of your industrial oils, saving you time and money
8. Oil Analysis
Analyzing the oil in an application is an important part of a lubrication strategy. By measuring against ISO 4406 standards, the oil can be kept at the right cleanliness levels. Additionally, chemical analysis of the oil will determine if it is t for further use.
9. Environmental Control
If spilled, lubricants can contaminate the environment. Therefore, most maintenance strategies today work to prevent such contamination from occurring. This is also a key ingredient in worldclass manufacturing standards.
10. Knowledge Management
Management of knowledge is becoming critical in industry today, particularly within the maintenance sphere. Maintenance workers must be skilled in the benefits of good lubrication practices. Additionally, with the growing awareness of the benefits of employing reliability-based maintenance strategies, the basic training of personnel should be raised to that of the reliability techniques employed by best-practice organisations.
Dangers Associated with Implementing Best Practices
Implementing reliability-based strategies that are successful over the long term is not an easy task. Many strategies fail because they are seen as projects and not as processes to change the work culture of those involved.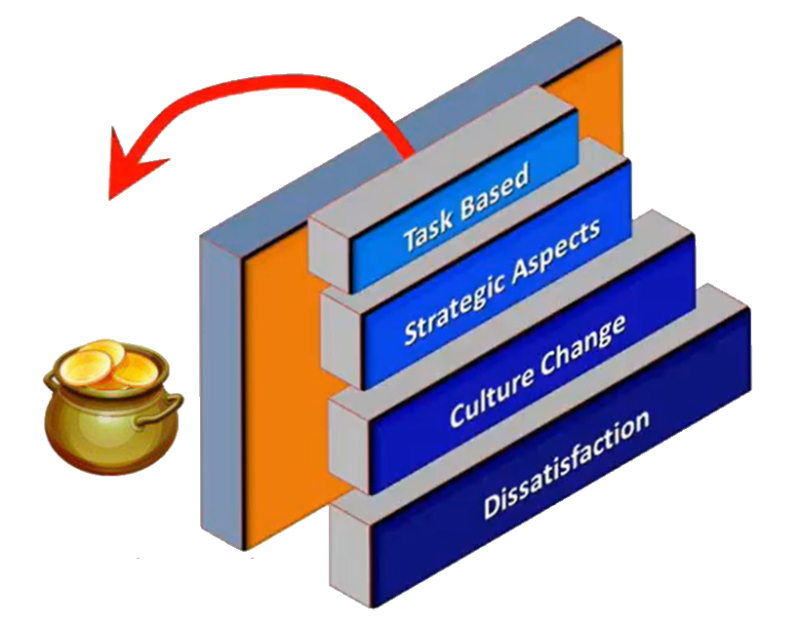 Change Barriers
Effective implementation requires the existing culture within a plant to be changed so the processes are accepted, followed and sustained.
While cultures can be changed, to achieve this requires an understanding of the causes of failure and how to prevent these factors from coming into play during the implementation process.
Addressing the need to change the way employees work will provide a higher success rate for any project and ensure the new way of working will be sustainable over the long term.